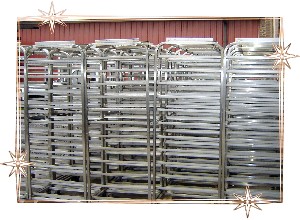 Bakery Rack Maintenance
Get your bakery racks 100% clean – oven racks AND cooling racks! Your customers will see that you care about your quality.
We use the same gentle cleaning method to clean bakery racks – whether they're oven racks or cooling racks.
Due to time constraints, most on-site cleaners have to use harsh chemicals to remove carbon. Once the aluminum surface is damaged – the shine is gone and the racks quickly get dirty again.
Our soaking process will not damage the aluminum – period!
We can also install new, hi-temp wheels and casters on your oven racks.  This will make them, not only look like new, but roll like new too!
We're happy to clean your bakery racks!
Contact us at 570-654-1138 or sales@allbriteinc.com
We'll discuss your shipping and delivery options specific to your needs.